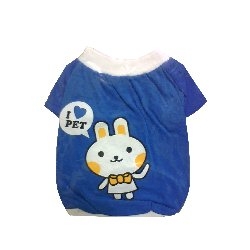 [S]T-shirt on blue Not Available T-shirt
₱ 120
Details
Small Length:9 in width:5.5 in Girth:13.2 in

The toy dog t-shirt in a medium is made of a cotton material with an icon of a cute bunny. The design is perfect for your pet in any types of activities like running, playing and rolling, strolling around or anything that you may fancy to do.
The simplicity of the t-shirt is perfect in a humid day or a ,cold weather and also for warm season.
If you have any questions or comments about this or any other products, please write to us using our contact form.