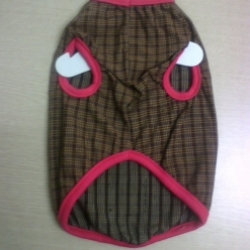 Sleeveless Not Available Sleeveless
₱ 100
Sizes : S,M,L
Details
The sleeveless is design in a simple way with its reddish brown stripes with a pink lining.The Sleeves is perfect for
humidity and warm season, and its made of cotton that makes your pet more comfortable.
This is good for strolling around because of the simplicity of the design that gives them much flexibility.
If you have any questions or comments about this or any other products, please write to us using our contact form.